Stay
If you're coming in the winter, stay in an
Airbnb
with a fireplace and burn some smoky-sweet piñon in the cold, clear nights
Eat
Cafe Pasqual's (make a reservation in advance)
Modern General Feed and Seed
Sage Bakehouse
Taco Fundacion
Ohori's Coffee Roasters
Joseph's Culinary Pub
La Choza Restaurant
Dolina Bakery & Cafe
The Shed Restaurant
And pick up some hatch chiles to bring home
Do
Seret & Sons
Collected Works Bookstore & Cafe
Meow Wolf
Santa Fe Vintage Outpost
Georgia O'Keeffe Museum
Doodlet's
Santa Fe Farmers Market
Shiprock Santa Fe
︎
︎
︎
︎
The High Road to Taos
︎
Drive from Santa Fe to Taos – take the High Road one way, through the snow- and sage-covered mountains, unexpected forests, and endless plateaus
Stop along the way at Santuario de Chimayo, a 19th century church with a patch of healing earth
When in Taos, eat at La Cueva Cafe before getting into the downtown. We walked around Taos Plaza and Bent Street, spending time at op. cit. books
We took the Low Road back, hugging the Rio Grande. A sliver of a moon hung in the sky as the desert expanse bloomed into inky darkness
︎
︎ ︎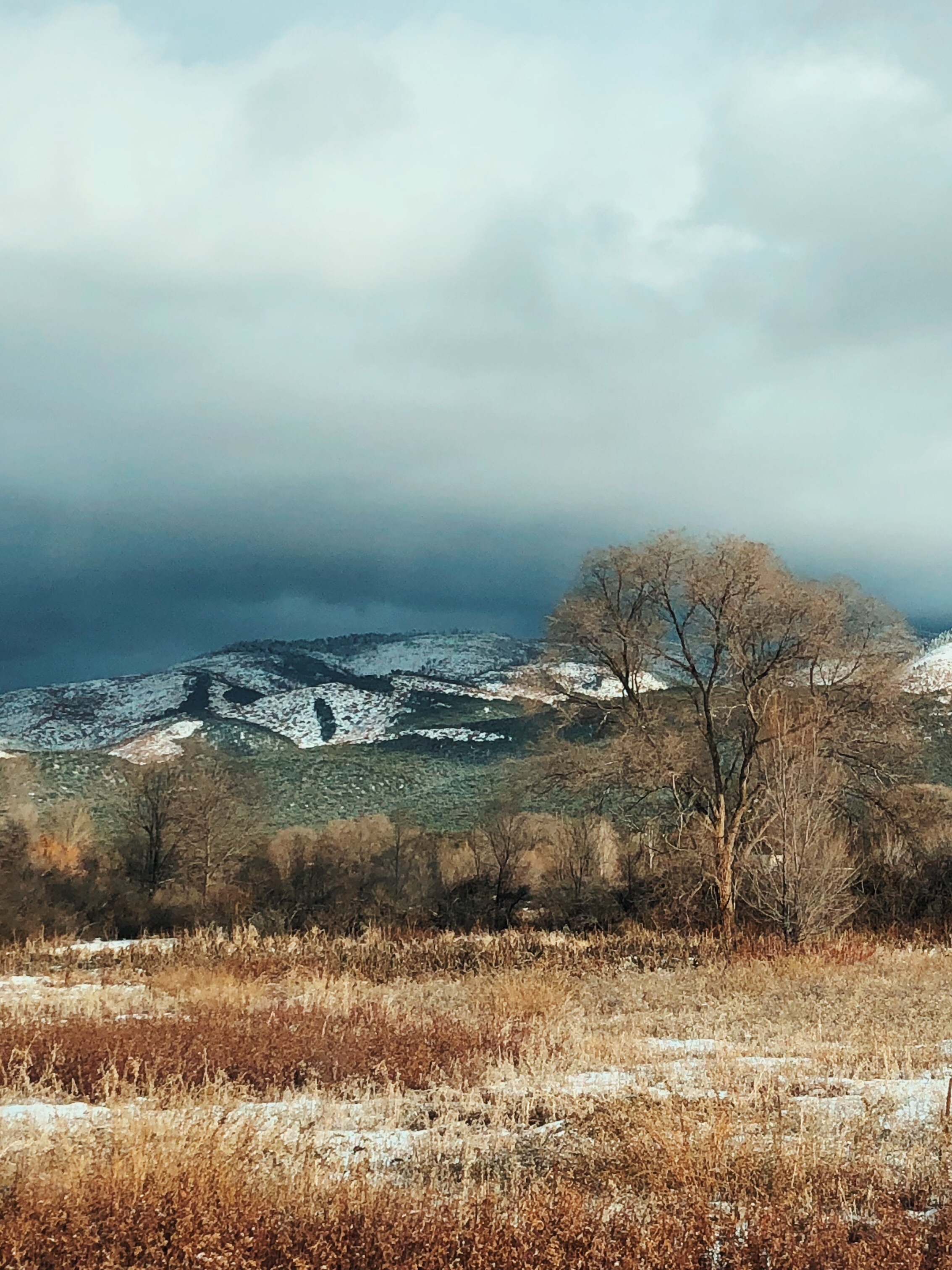 Ghost Ranch
︎
︎ ︎
︎
The drive to Ghost Ranch is a study in delicate pinks and blues shading the snow on brilliant red land
Ghost Ranch itself has small anthropological and paleontological museums, and hiking trails
Stop by Abiquiu Lake on the way back – I was there at golden hour, standing alone in furiously cold winds, looking down over the pastel water
Québec City,
Canada
Visiting Québec City in late November requires comfort with disrupted plans. When our (tiny, twin propeller!) plane couldn't land in the snowstorm outside, we were rerouted for the night to a regional airport in Bagotville, 130 miles north of Québec City.

When we finally made it to Québec City, an ordinarily 2 hour journey from New York City turned into 30, we stepped into a deep history just over the threshold of the border.

This transformation seems to require a true pilgramage – our return flight was also cancelled. I hope you have better luck with flights!



Do

There are a few libraries in former churches, where you can browse French-language books under soaring arches:
Maison de la litterature

Library Claire-Martin


Walk the Governor's Promenade along the ridge between the upper and lower parts of the city. It starts at the top of the funicular at Fairmont Le Château Frontenac, and ends at the Plains of Abraham, which was a winter wonderland of pillowy snow

Near the Plains of Abraham, you can tour La Citadelle de Québec, and spend hours at the Musée national des beaux-arts du Québec. It's a sprawling complex of four buildings housing comtemporary, modern, and historic art

Despite the bitter cold, the city is best taken in by foot – explore the Old City, with its thick stone buildings and wafting scents of warming fires. Go ice skating at the gate to the old city at a public rink (you can rent skates). Just know that the average skater has a fairly high proficiency, so you'll be surrounded by people effortlessly spinning and gliding

Inside the old city, stroll through the Christmas Market, and explore little shops like the Boutique Le Sachem, which specializes in indigenous products


Saint-Roche is a young neighborhood with great shopping and bars. Maelstrøm Saint-Roch is a coffeeshop by day and bar by night, and is especially cozy
Eat
Dom
A vegan restaurant where everything was full of flavor
Cantook Micro Torréfaction

A coffee shop near our Airbnb that we stopped in each morning

Fairmont Le Château Frontenac
We ate breakfast in this storied hotel, overlooking the lower part of the city. There's a buffet, but we ordered à la carte

Épicerie J.A. Moisan
︎
The oldest grocery store in North America (founded in 1871). They have great prepared food, but I also loved exploring their spices, condiments, and many maple syrup treats

Chez Boulay-bistro boréal
Nordic cuisine using local, seasonal ingredients


Les Cafés du Soleil
A coffee shop where we hid out from the cold winds from the water, with a delicious grilled cheese and a wide tea selection

Casse-Croute Chez Gaston
Poutine of course!

Saveurs du Monde
Moroccan food, counter service
Kyoto,


Japan
Kyoto Nanzenji Ryokan Yachiyo
I really recommend staying in a ryokan (traditional guest house) for the experience of sleeping on a tatami mat and having a traditional multi-course dinner/breakfast. We got a room with a private hot tub onsen and balcony, and it was incredibly serene






Tenryuji Temple Shigetsu
a vegan meal served in a temple. So delicious and flavorful. Make a reservation in advance - you have to call for dinner, but can make a lunch reservation online. Spend some time and see the grounds too - it's worth it to get the garden plus temple ticket, to sit by the pond from inside the temple




Sushi no Musashi
a conveyor-belt sushi restaurant in Kyoto train station. Usually a line, but worth it for a fun experience!


Nishiki Market
a covered morning market - some sit-down places, and some places to just try little bites. As in the rest of Japan — it's rude (and enforced!) not to eat while you're walking






Kagizen Yoshifusa Head Shop
a sweets shop with a cafe in the back - you can get a bowl of matcha and a selection of mochi / other desserts


Okonomiyaki
Kyoto is a great place to try these savory pancakes. We went to Issen Yoshoku (kitchy/touristy, but fun), but also found Ginon Negiyaki Kana as another good option (more local/low-key)


Musoshin Ramen
delicious, quick ramen


Monk
I didn't get here, but wish I had… the chef trained at Noma, and now makes Italian food in Kyoto. Make a reservation in advance!


Rutubo Izakaya
a pub/bar with a wide sake selection


Sentido Cafe
a small cafe in a mostly residential area - part of Kyoto's 3rd wave coffee scene



Higashiyama Jisho-ji (Silver Pavillion)
you can take the #100 express bus here. It's a lovely walk through a rock garden, forest, and temple complex at the top of the Philosopher's Path


Philosopher's Path
a walkway along a small canal, there are little shops and cafes to explore along the way (including a paper shop that's over 100 years old). There's a quiet temple called Hōnen-in Temple that's a few minutes off the path, if you have time. Monk is along the path too


Tenryuji Temp le
even if you don't get the meal there, it's a beautiful, peaceful spot. And it's near the ︎



Arashiyama Bamboo forest
a walk through a bamboo grove, and has a lovely park adjacent to it







Inari Shrine
similar to the bamboo forest, if you make it past all the people taking photos at the beginning, it's a meditative walk up a mountain through thousands of red shrines. At a point near the beginning, there's a dirt path going up on the right - you'll find a small temple up there, and a mostly empty path along a bamboo grove. At the end of it, stop at Kafe Inari for a delicious bubble tea and the coziest upstairs room




Ishibe-koji Alley
this is a bit hard to find (with no English signage, but Google Maps will get you there), and feels like such a magical secret. It's a beautiful, historic little area that's super quiet and mostly residential. It honestly feels like stepping back in time in the winding, back streets, and was completely empty when I went there around 7pm.


Gion
historic, entertainment district. There are a ton of shops and restaurants along the Main Street off the bridge, but turn to the south and wander around the back streets — they're usually quiet, and atmospheric with red lanterns filtering light over wooden buildings


Pontocho Alley
a beautiful street, along the bank of the canal in Gion. It's prettiest/most atmosphere in the evening


Ukiyo-E World's Smallest Museum
a one (small) room woodblock print museum that's only open when the artist "feels like it." It's super tiny, but an interesting experience


Maiko Antiques
on the same block as the Ukiyo-E World's Smallest Museum, a crowded vintage store with old Japanese ad prints (and much more)


Tokyu Hands
department store with rotating popups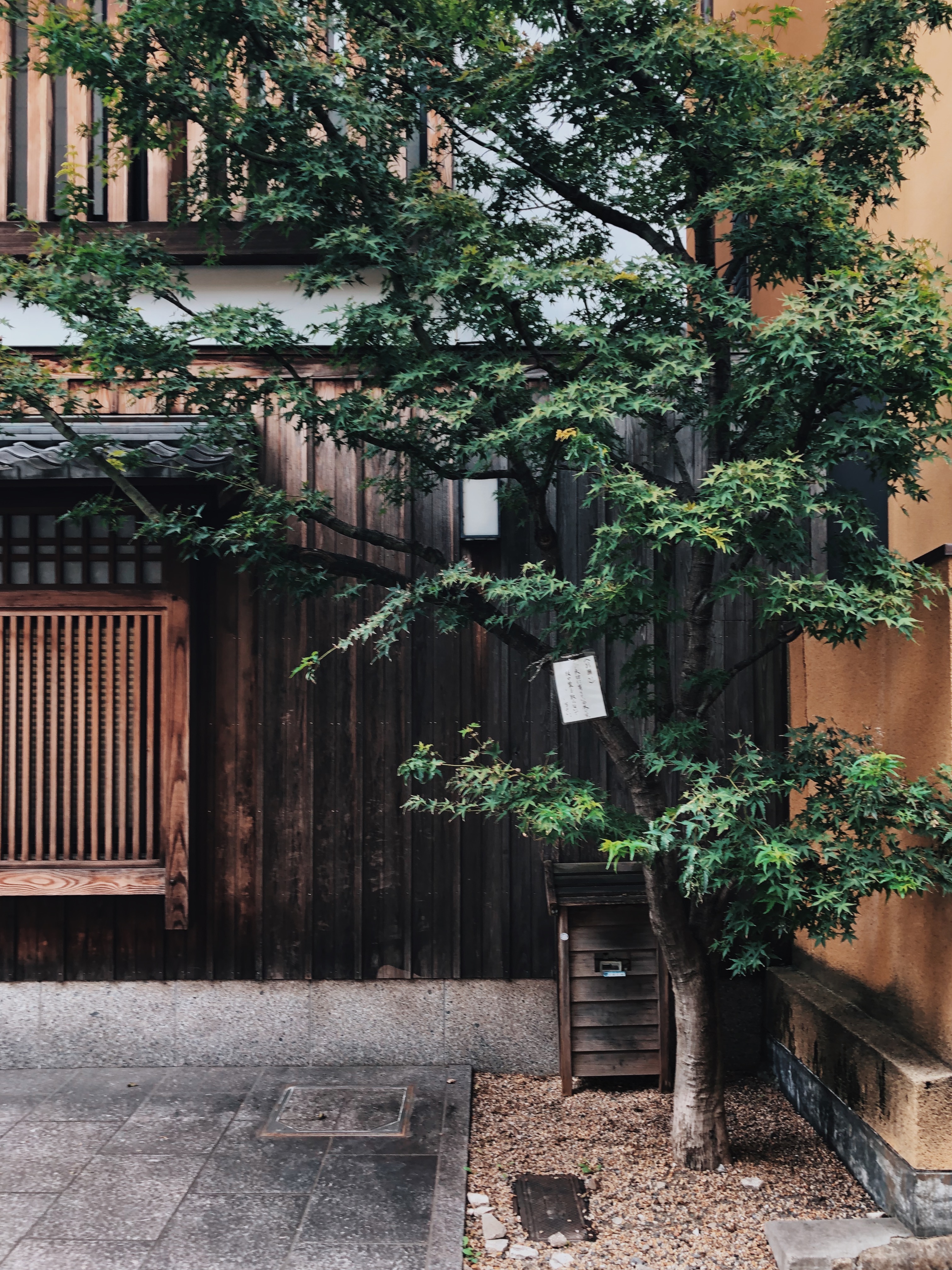 Tokyo,


Japan
Logistics

Getting a
Pasmo or Suica card
is super helpful - it's a prepaid cash card that you can use on any of the subway/train lines instead of buying separate tickets each time (different lines are owned by different companies). And you can even use it in some convenience stores / machine-order ramen restaurants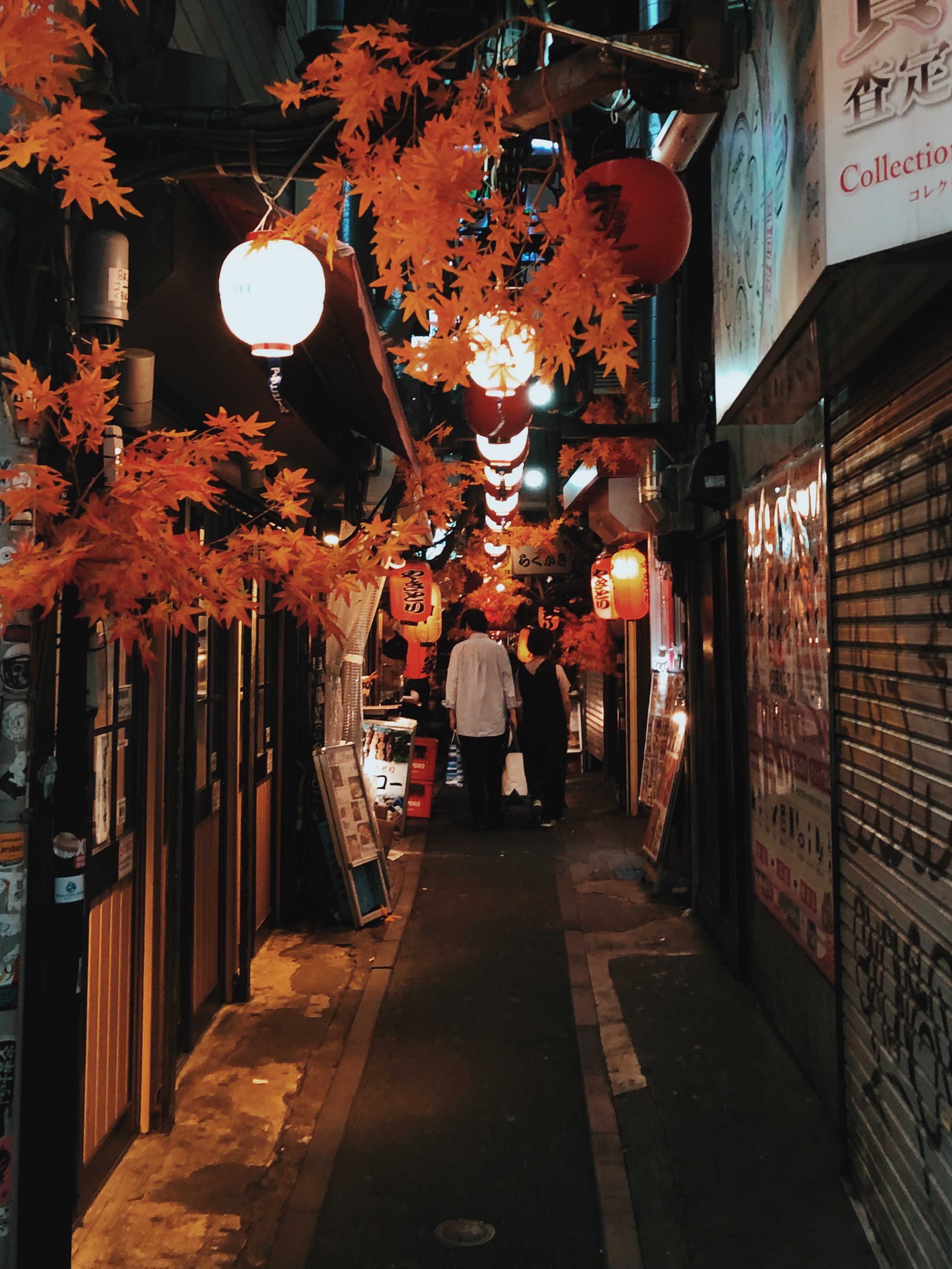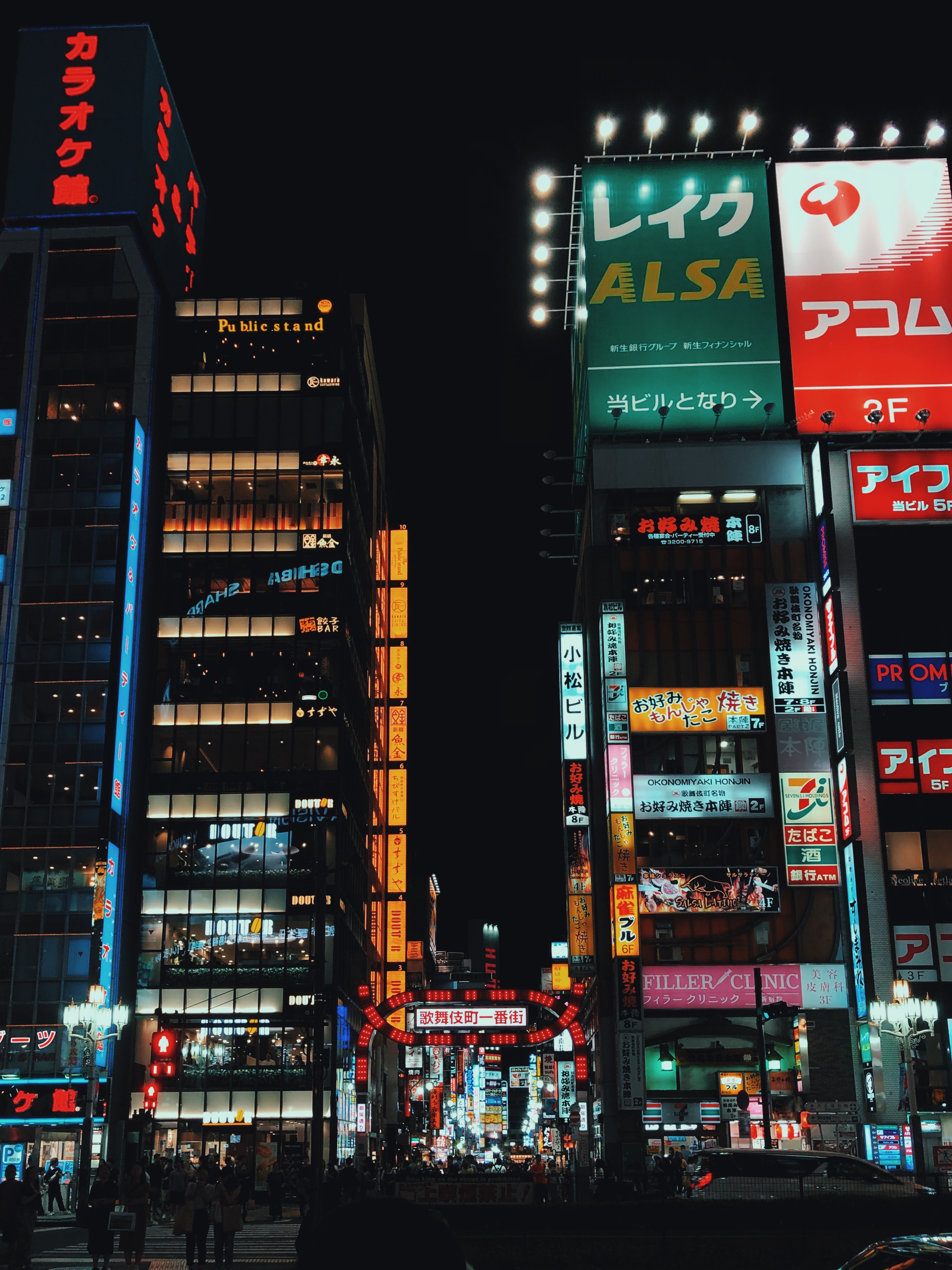 The Prince Sakura Tower Tokyo
Autograph Collection
Muji Hotel
(at the top of the 6-story flagship Muji store)
Eat & do

Golden Gai
a dense area of 6 alleys with probably 100 bars each one is super tiny and has a different theme. I loved a blues bar and a literary/film bar
Cafe de l'ambre
a traditional, wood-paneled coffee shop since 1948 - one of their specialties is an egg yolk coffee
Godaime Hanayama Udon
I had a delicious cold udon/tempura bowl here. There was a long wait (you write your name on a list outside) but it was worth it
Tsukiji Market
the iconic fish market / tuna auction has moved to another location, but the external market stalls are still along the water at the old site.
Shimakitazawa neighborhood
a bit out of the way, but calmer, with tons of vintage shopping and live music venues
Frankie's - Australian coffee shop
B+B (Books+Beer) - a bar / bookstore - I think I bought the one book in English that they carried
The Cage - a bar/music spot under an overpass with stalls for food and vintage clothes
Don Quijote Shinjuku Kabukichō
a chaotic, 6 story mall with everything you could want (and delicious bubble tea) … a bit overwhelming if it's the first thing you do after the flight!
Roppongi Hills shopping center
Kapital - a delightful clothing store (with a few other locations) - I had to go after reading this David Sedaris article
Eggcellent - brunch spot
Mari Art Museum - a fairly small/manageable modern art museum
Map
Cartagena,


Colombia
Go to Cartagena
for the colors, the architecture, the history, and the food.
We stayed in
Getsemani
, a neighborhood just outside the walled center. During the day, the streets are awash in color - ribboned with pennants, and spilling with flowers. Take some time to explore the narrow, quiet streets during the day while most of the tourists are in the walled city. Stop for brunch at
Café Stepping Stone
, or a snack
para llevar
at
Colombitalia Arepas
. Make sure you come back at night when it really comes alive, with music and people-watching in
Holy Trinity Square
. Get a table at
Demente
for delicious tapas,
Malagana Cafe & Bar
for a cozy rooftop and great chicken wings, or
Di Silvio Trattoria
's patio space for moody ambiance. If you're walking between Getsemani and the center, go through the
Parque Del Centenario
and keep an eye out for monkeys scampering throught the trees (we heard there were also sloths, but didn't see any).
Every walk into the walled city started with a trip to
La Paletería
for a popsicle. They have a huge variety of flavors, and I loved the limonada de coco, mandarina, and galletas de la abuela. The city is smaller than I expected, which means there's time to explore nearly every street – don't miss the
Clock Tower
, or the
San Diego
neighborhood, which feels somewhat low key, like
Getsemani
.
Of course, the Colombian coffee is amazing, and cafés offer much-needed breaks from the heat.
Abaco Libros y Cafe
was one of my favorite places to sip a latte surrounded by floor-to-ceiling books.
Folklore Colombian Cafe
is another great spot to try different brewing methods, and relax in the sunny courtyard.
Epoca Espresso Bar
offers a delicious brunch menu – plan to arrive early to snag a seat. The
Museo Del Cacao
lets you sample (and buy) the country's chocolates – we ended up getting a delicious creamy corn drink.
The food is distinctly Caribbean, and you can get a traditional platter at the un-touristy
Refresqueria la Estrella de la India
.
La Vitrola
is a classic, upscale restaurant with live music - just make sure to make a
reservation
in advance. There are so many great food options that we didn't get a chance to try – it's hard to go wrong!
While nearly any street in the old city ends in the sea, the beaches are rocky and right next to the highway. We spent a day visiting the
Rosario Islands.
We started in
Isla Barú
, which was the most popular and crowded beach (and isn't actually an island). From there, we took a boat to
Isla Grande
for snorkeling, then a quick hop to two more islands (I'm not sure which – I can't find the brochure!). It was a lovely day, but I would recommend sticking to one beach - ideally Isla Grande for snorkeling options and more secluded, pristine waters than
Isla Barú
.
On our last day, we said farewell to the city from the rooftop of the
Movich Hotel
. You can enjoy the best views of the old town and the Bocagrande skyscrapers while sipping a delicious limonada de coco in the bar area, or buy a day pass to use the two pools.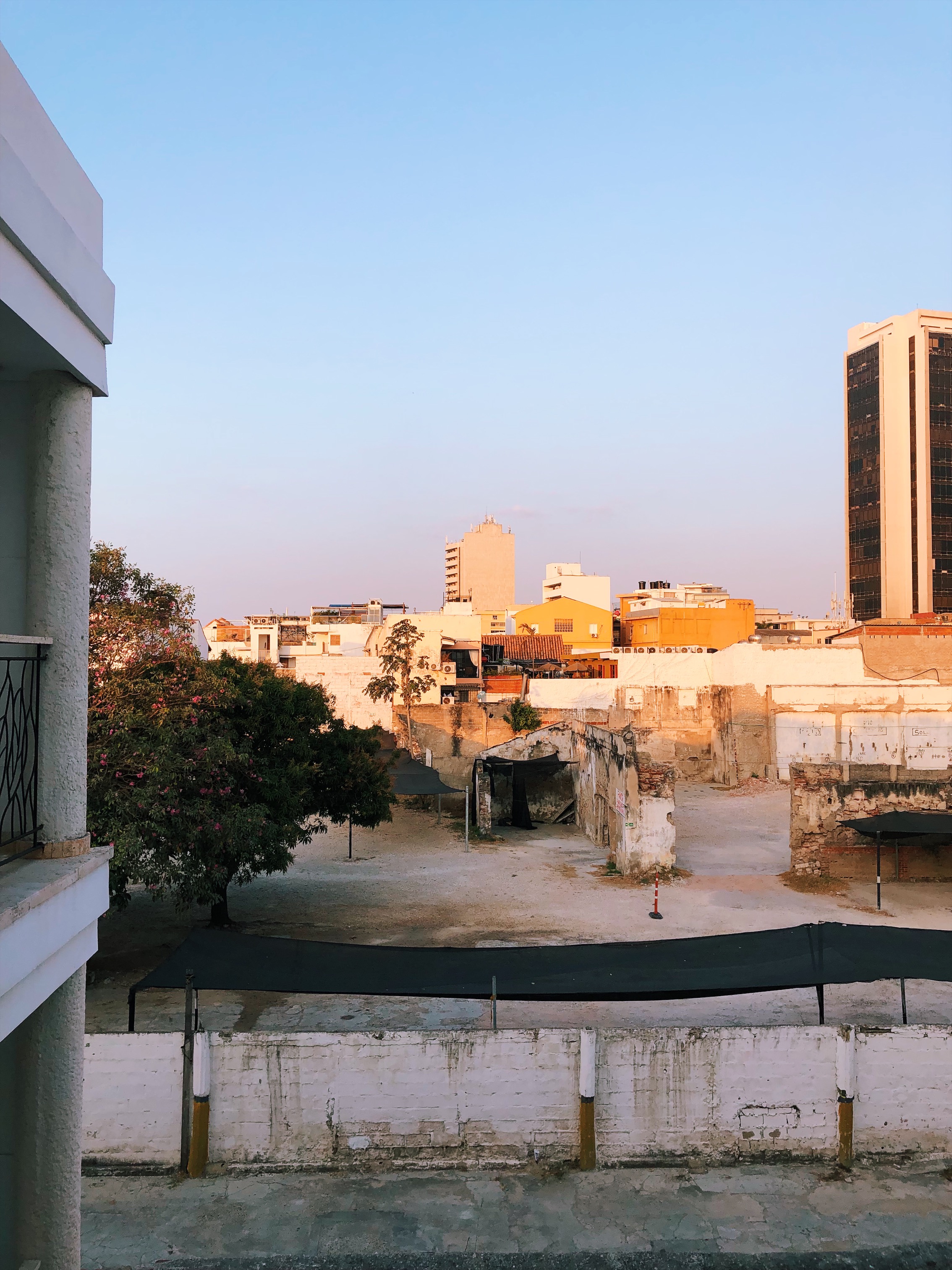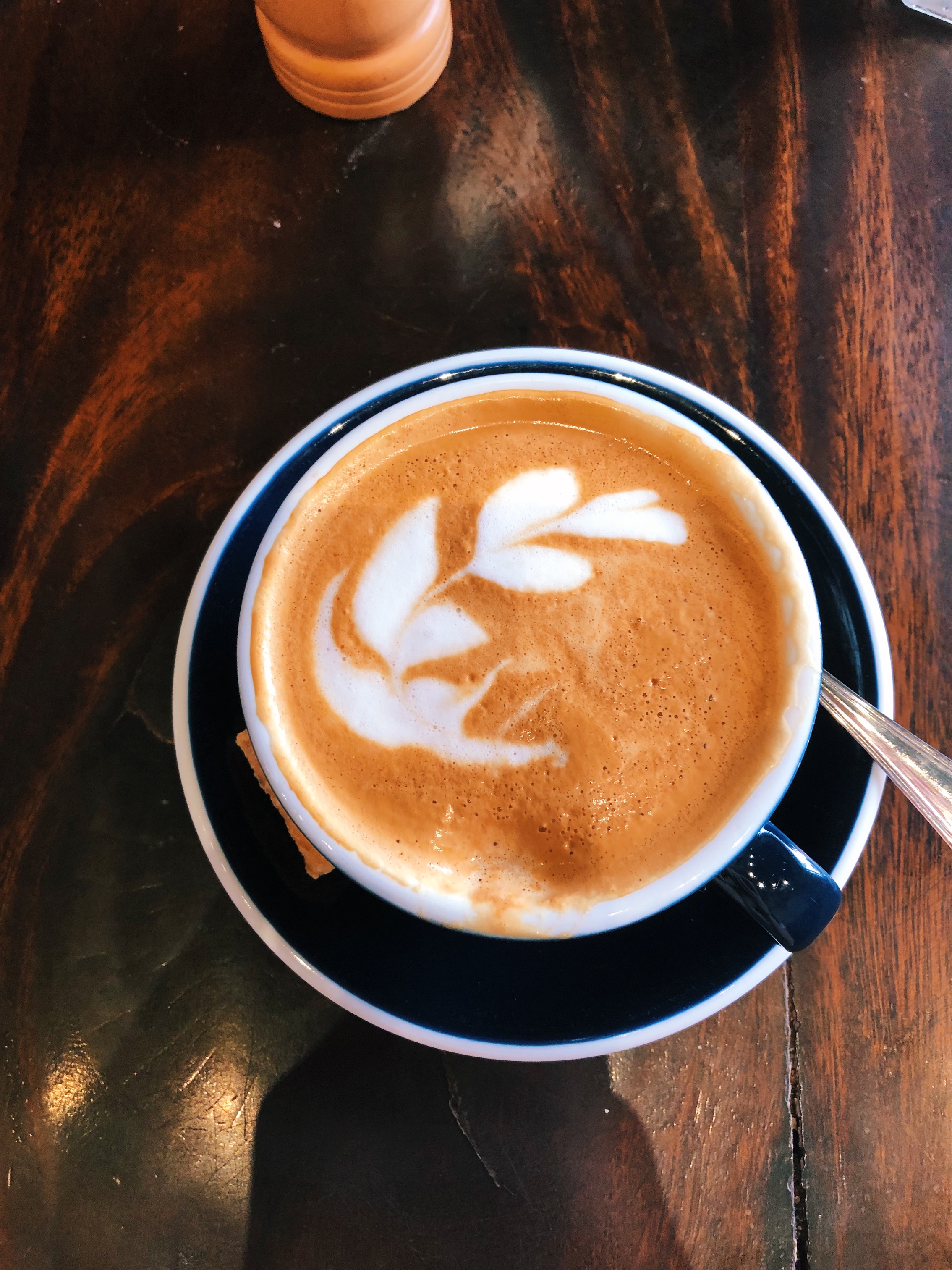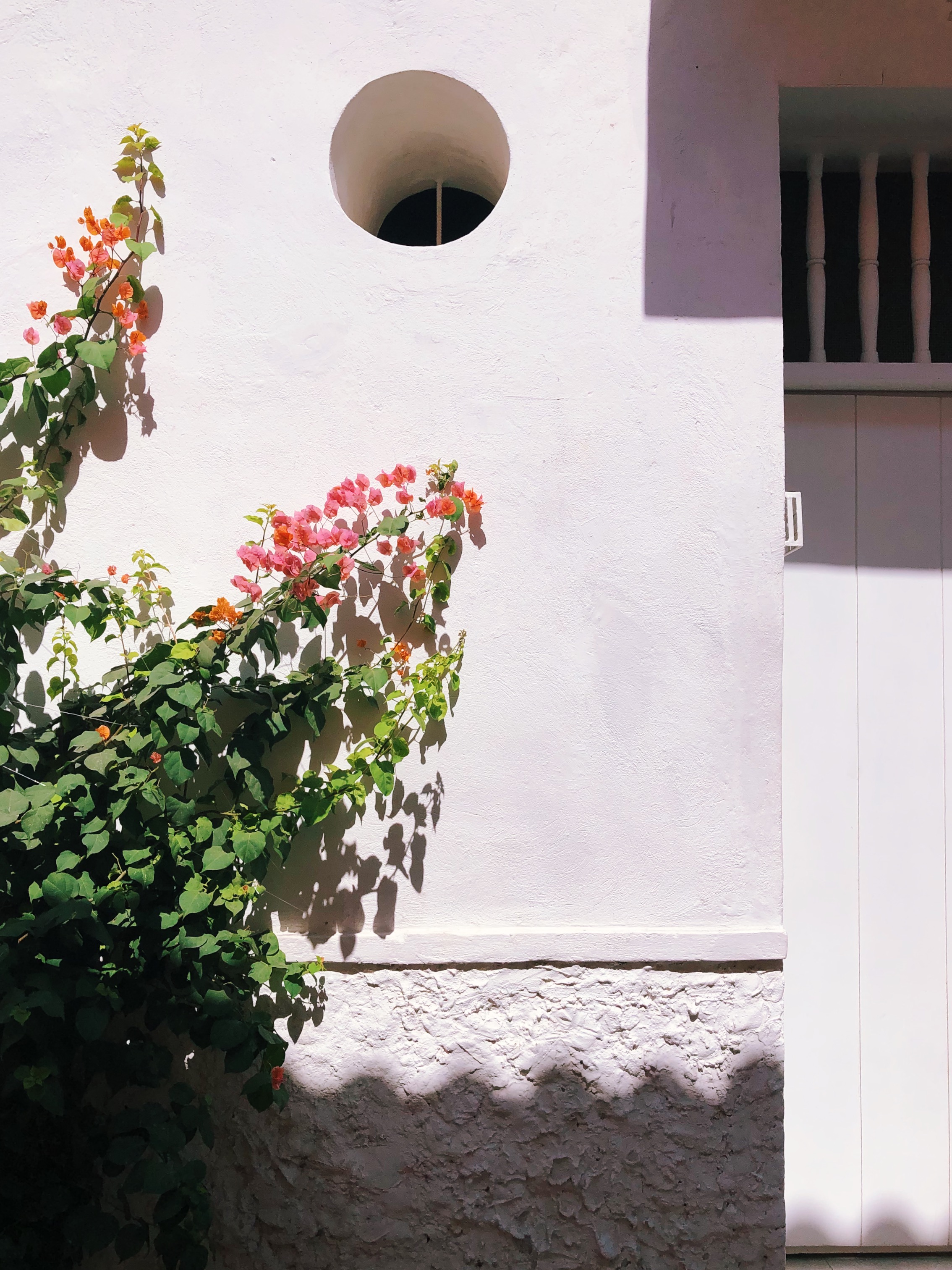 Churches offered a cool respite from the Caribbean sun. Spend a quiet afternoon in Iglesia de San Pedro Claver exploring the light-filled church and courtyard. Don't miss the spiral staircase behind the ticket booth, leading to a small gallery and great views of the pews. Bring a book and settle into one of the chairs along the mezzanine, tucked away from the bustle of the square outside.

Cartagena Cathedral is another great spot to admire the architecture and have a moment of reflection.

We stayed at the Hotel Boutique La Artillería, which is a good option for an inexpensive stay. The hotel is on a quiet street around the block from the bustle of Getsemani, and a 10 minute walk to the walled city. There's a rooftop pool and beautiful breakfast courtyard, but the rooms were fairly basic.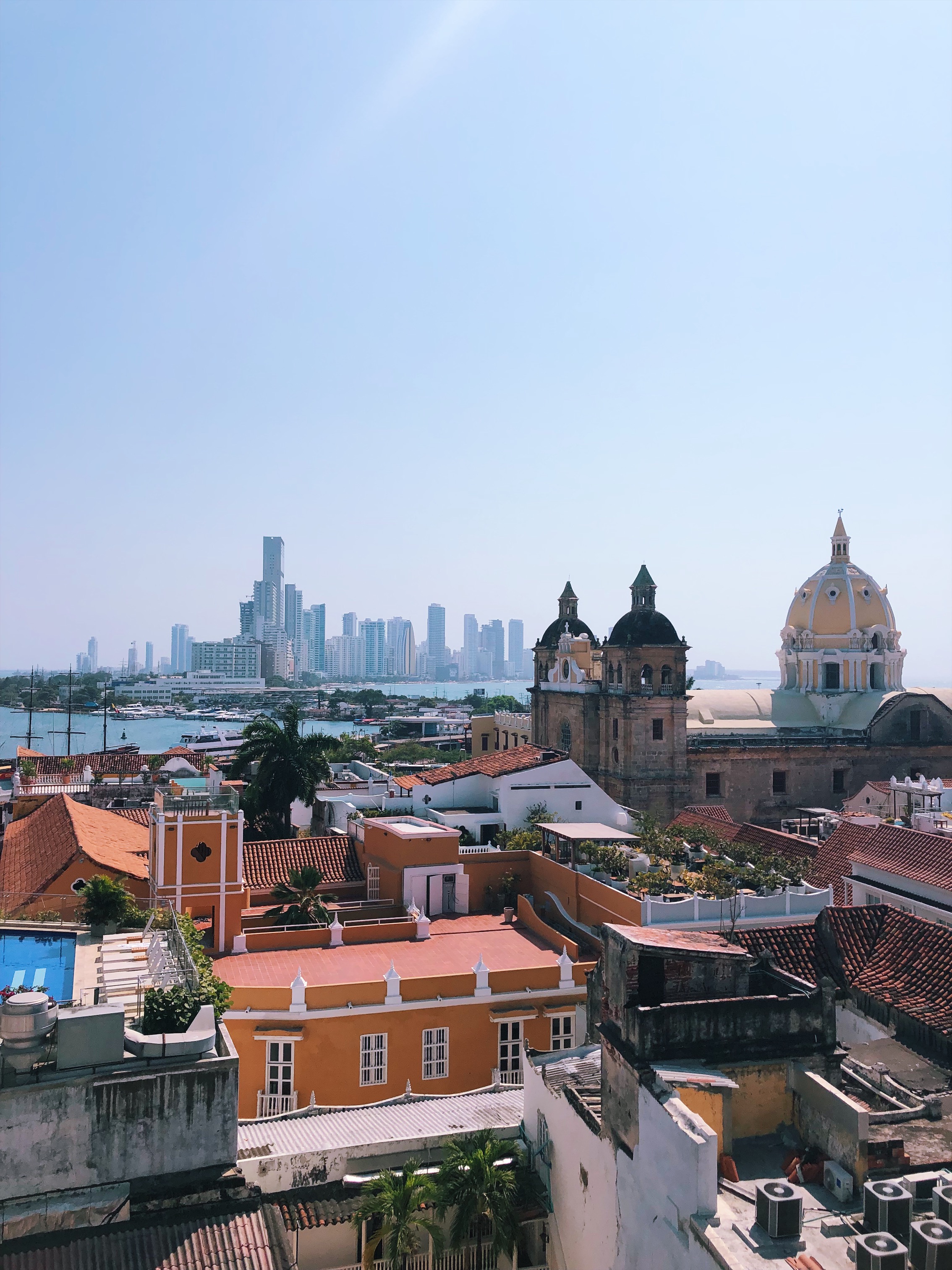 Bali /

Indonesia
Flying east from a New York February,
Bali is an elemental shock. In the midst of its rainy season, the island is lush with green, muddy underfoot, and resplendent when golden light breaks through the quick storms.

We stayed in a lovely villa at the

Alam Shanti Hotel

,

which serves delicious fruit smoothies and rice for breakfast.



The quickest way into town from the hotel is through the

Sacred Monkey Forest

, a huge nature preserve full of monkeys that are very used to humans - they will climb on you! When the park closed at night, we saw them trudging out the back for their commutes home.

At the end of the forest is Monkey Forest Road, a main thoroughfare full of shops and cafes, including

Cafe Wayan

, where we took a Balinese cooking class.

One of the food highlights was

Locavore

, which serves a tasting menu (either omnivore or vegetarian) with course after course of amazingly inventive dishes. And then what seemed like 14 small desserts, all delicious. Reservations fill up months in advance, so be sure to book early.

Nearby is

Folk Pool and Gardens

, a restaurant and swim-up bar with private daybeds and a backyard party atmosphere.

On the other end of town, closer to the hotel,

Mother

is a great breakfast spot with wifi. It's in a lovely neighborhood, with residential, flower-lined streets.

It's worth it to hire a driver to see temples. Know that you'll need to wear a sarong to enter any of the temple complexes.



Gunung Kawi Temple

is accessed by going down (and later up) a long flight of stone steps. Don't just go straight to the temple though – take a right down what feels like a secret pathway. You'll pass a waterfall and some amazing views. And we didn't pass a single person the whole way.



Tirta Empul Temple,

built in 960 AD, is centered around a holy spring, and is a pilgrimage destination to bathe in the purifying waters.

The iconic

Tegalalang Rice Terrace

is breathtaking for its sheer verticality. It's especially gorgeous after the rain breaks, and slants of light hit the fields.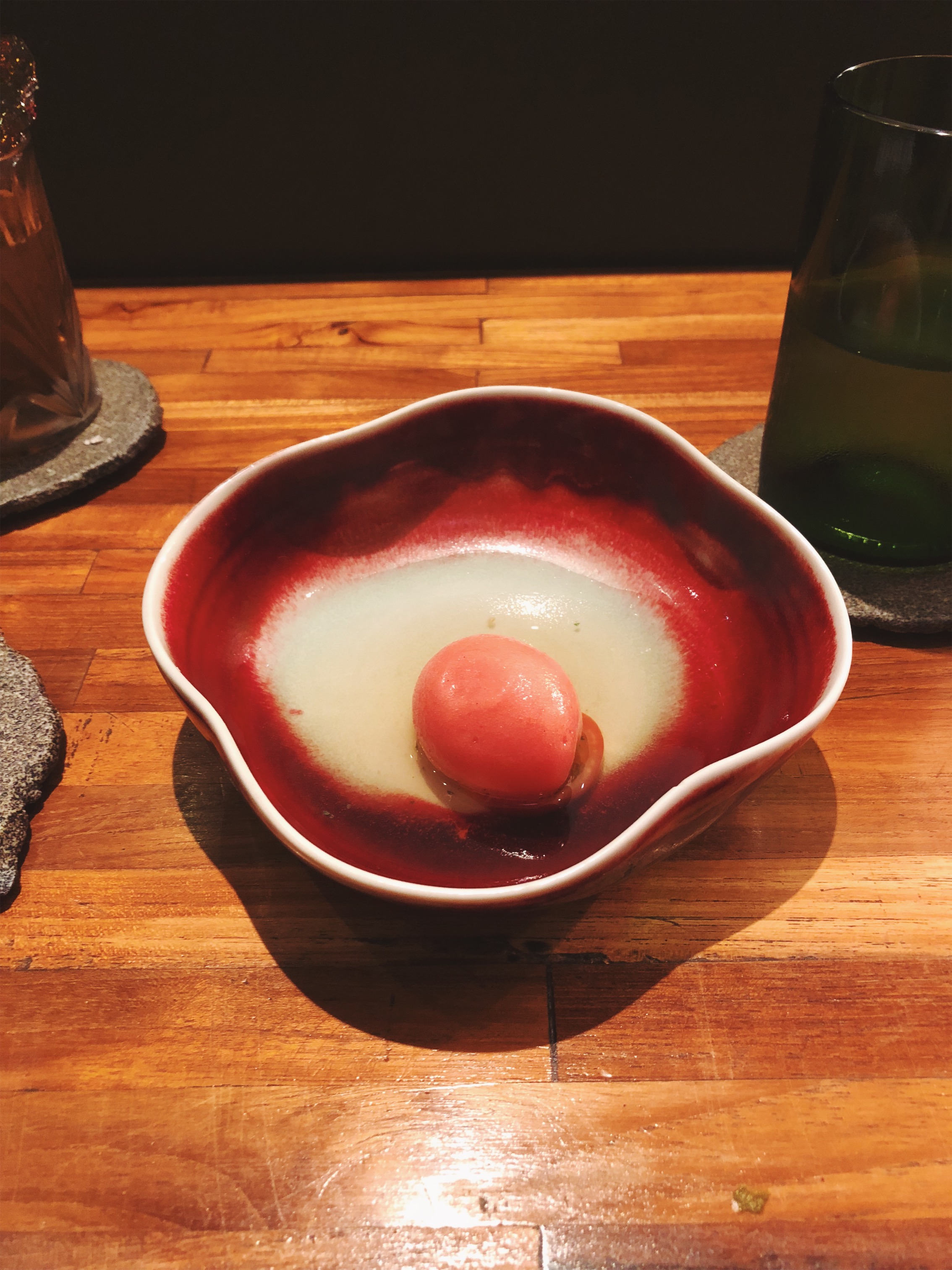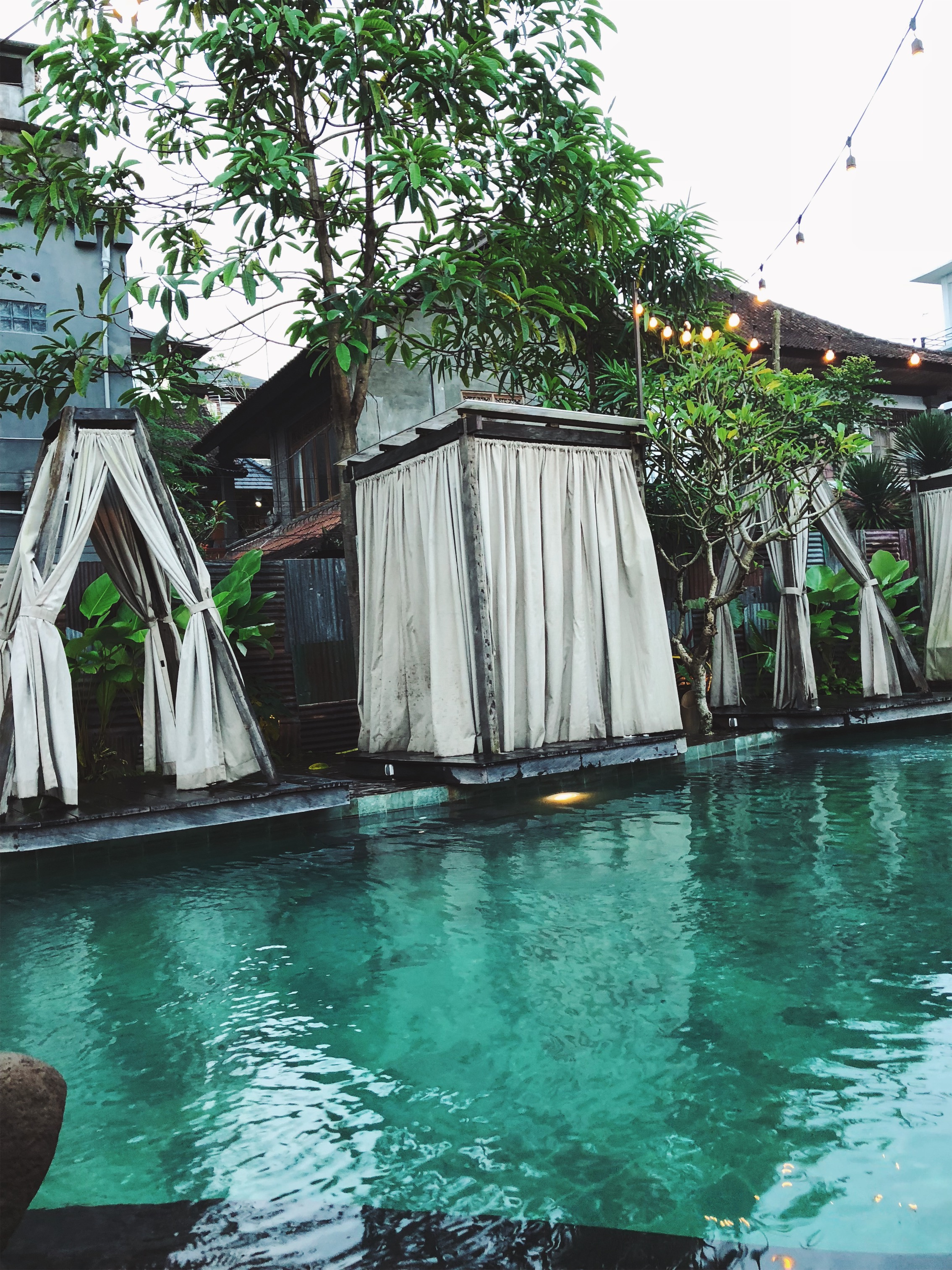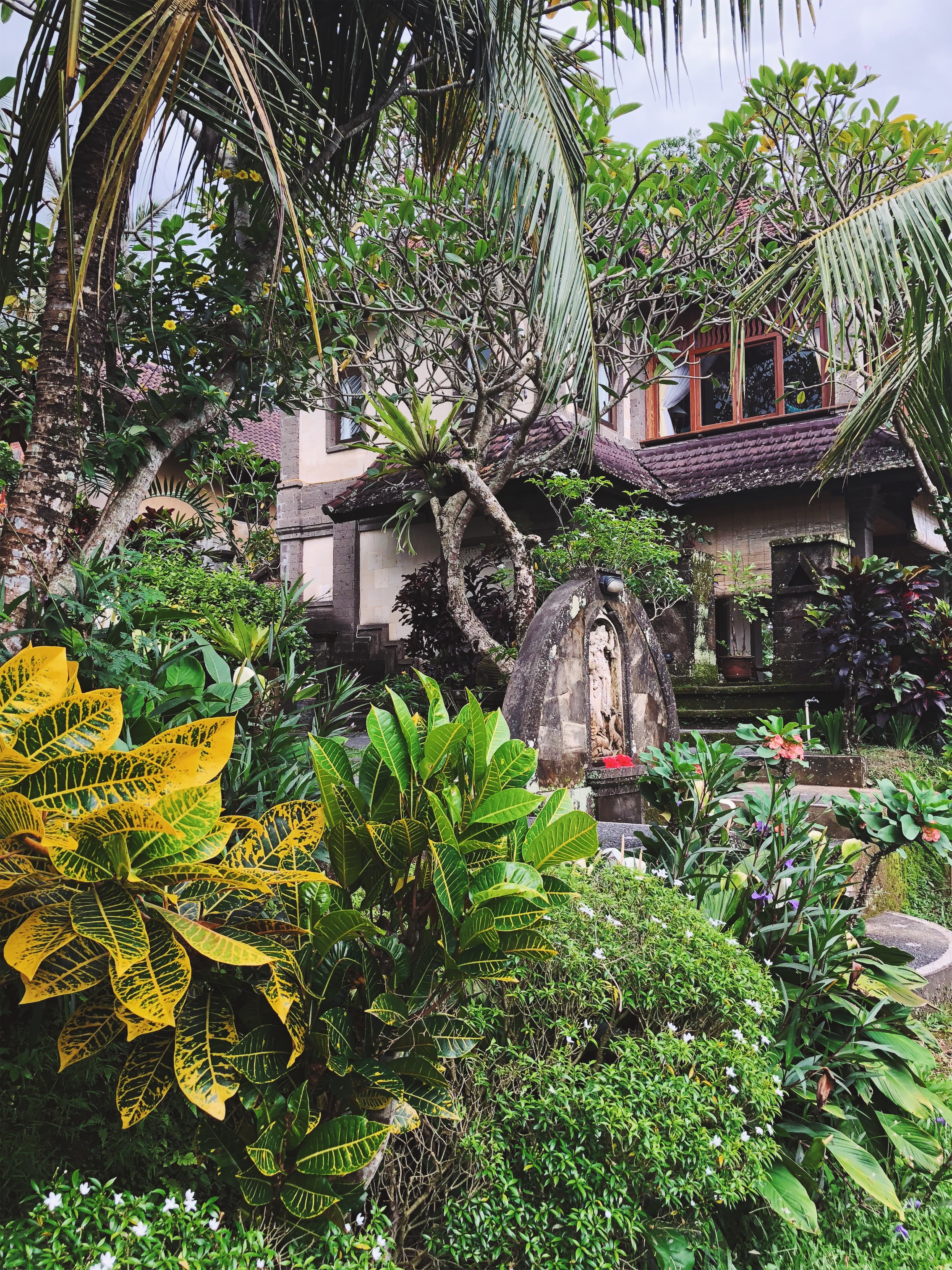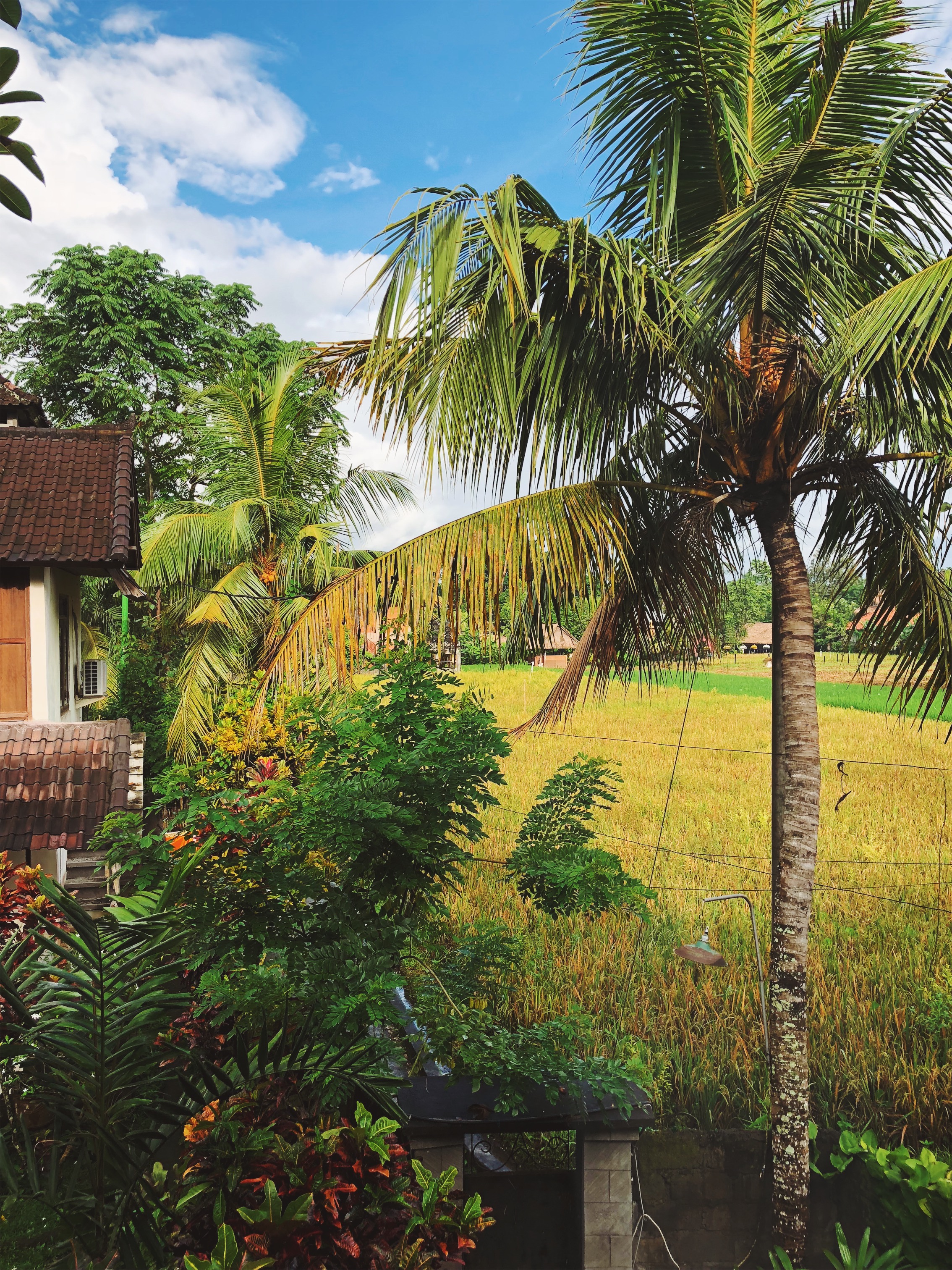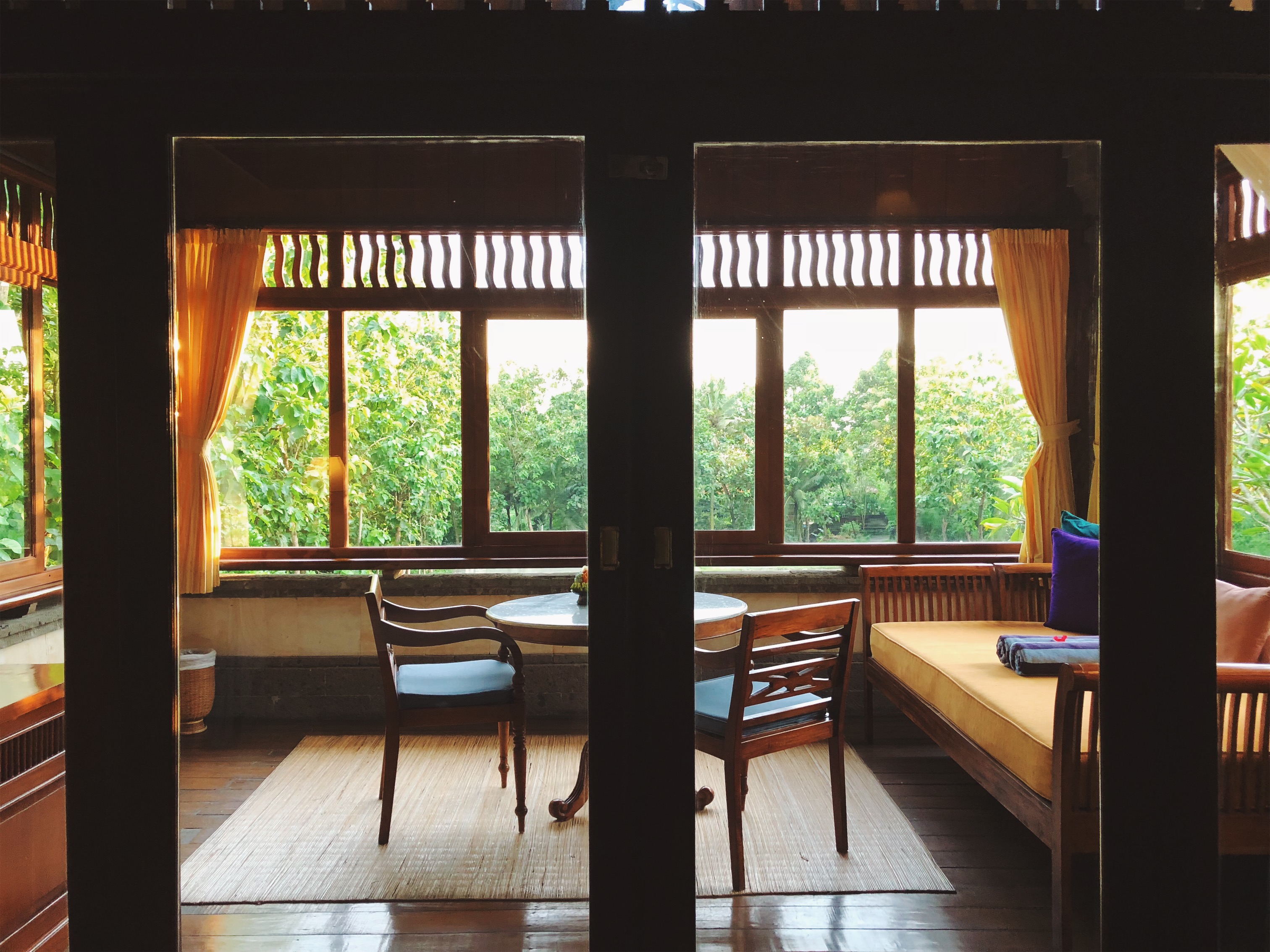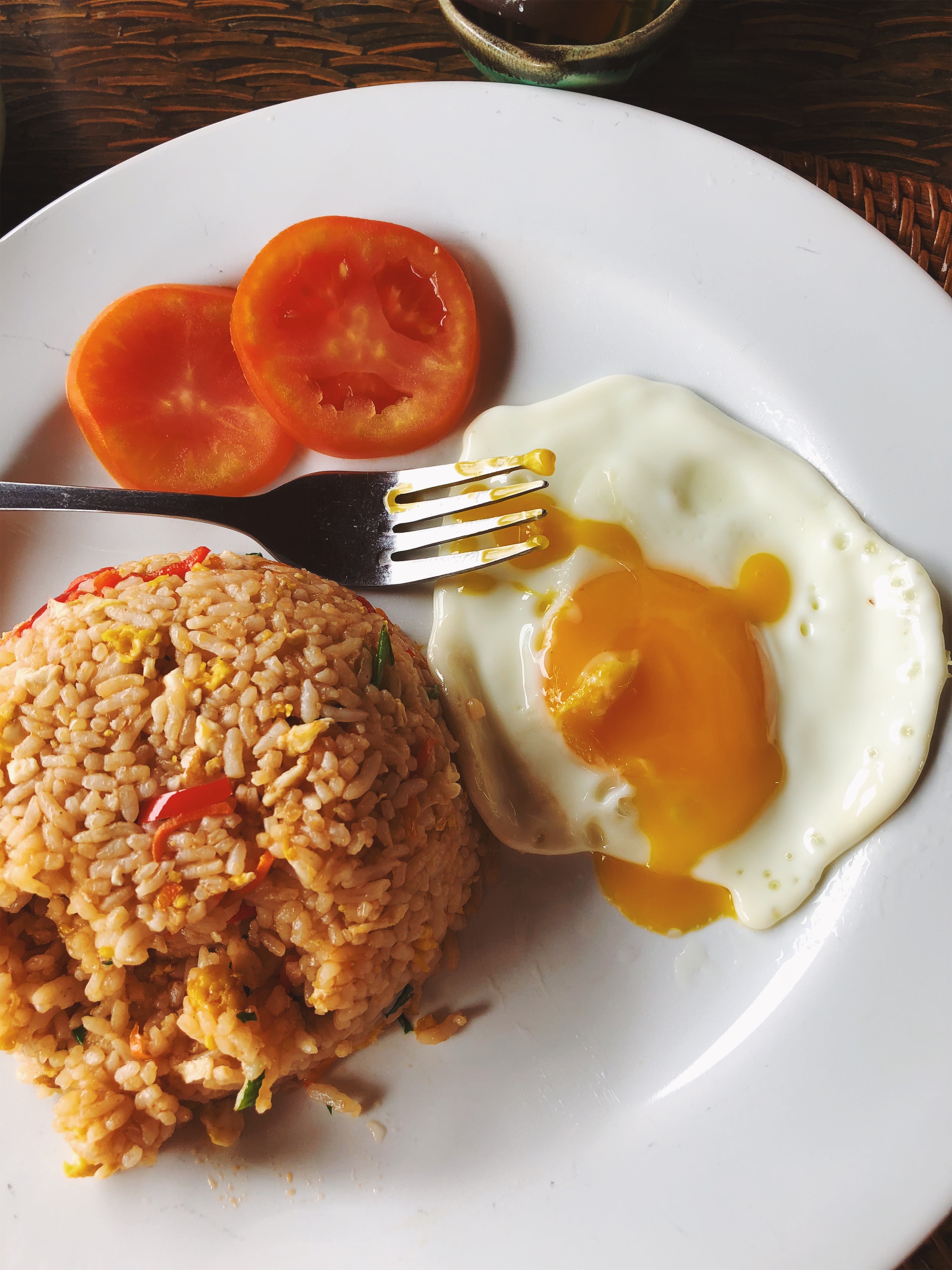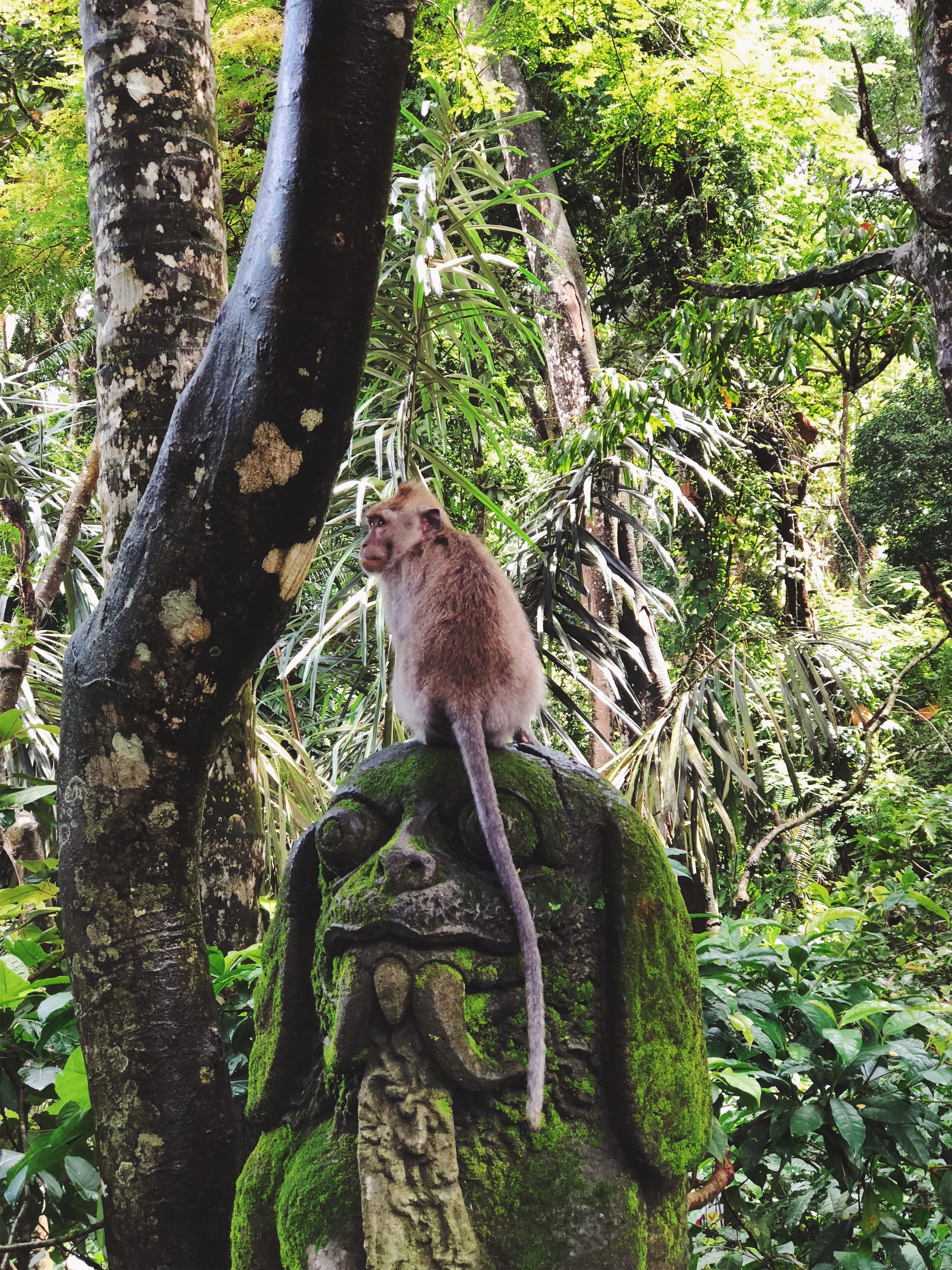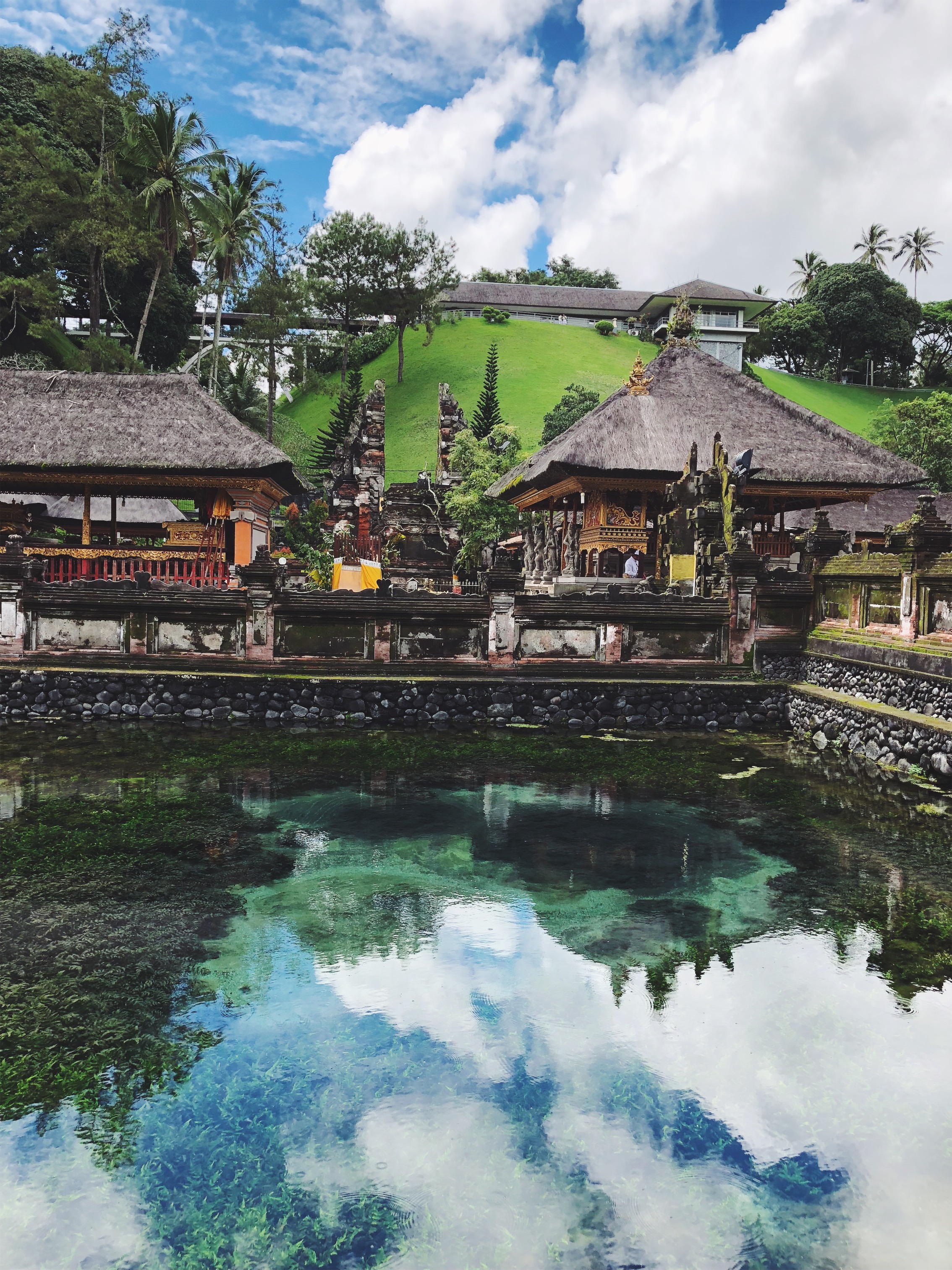 ---
Signe Schloss 2019 — Brooklyn, New York